After musing about how I can incorporate Autumn into my knitting, I thought "why not just knit a leaf". So here is a very quick pattern for a little Liquidambar leaf.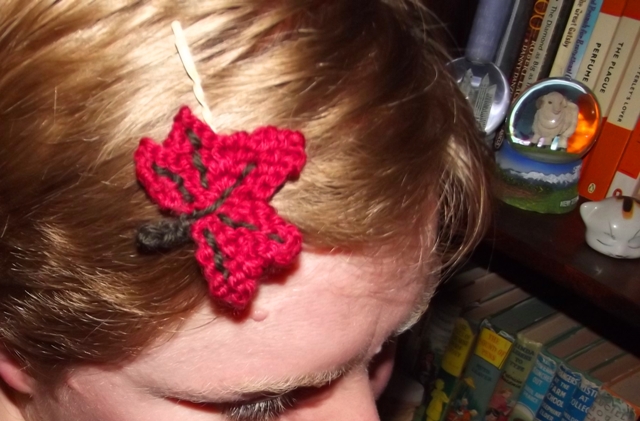 To make a little Liquidambar leaf that you can use on a hair clip you will need a small amount of 8ply/DK weight wool. I have used Jo Sharp Luxury 8ply Pure Wool in colours Ruby and Beetle.
PATTERN
Tools
Yarn – 8ply/DK weight wool with a slightly fuzzy texture (not suitable for really smooth yarns). About 5 grams of red/orange and about 1 metre of dark brown.
2.75mm needles.
Tapestry needle for sewing up.
4mm crochet hook for making stem.
Bobby-pin or spring clip.
Abbreviations
kfb – knit into the front of a stitch as normal and then into the back of the same stitch.
WT – wrap and turn. When you see "WT" in this pattern, bring the yarn to the front of your work as if you were going to purl. Slip the next stitch onto your right needle and then return the yarn to the back of to work as if to knit. Now slip the stitch back to the left hand needle and then bring the yarn to the front again.
Now turn your entire work around – you have finished working the row and are now ready to progress to the next row in the pattern. (Don't worry, it takes longer to read this instruction than it takes to do).
skpo – Slip one stitch, knit the next then lift the slipped stitch over the knitted one and off the end of your right needle.
Method
Leaf
Using the long-tail cast on method and red yarn, cast on 5 stitches. (Note, all stitches cast on after this point should be cast on using a cable cast on).
 Knit 4, WT
Knit 3, kfb
Cast on 1 stitch, knit 5, WT
Knit 4, kfb
Cast off 3, k1, WT
Knit 2
Cast on 2, knit 4, WT
Knit 4
Cast off 3, Knit 2, WT
Knit 3
Cast on 2, Knit 4 WT
Knit 3, kfb
Knit 5, WT
Knit 5
Cast off 4, knit 1, WT
Knit 2
Cast on 3, knit 5, WT
Knit 3, skpo
Cast off 1, knit 1, WT
Knit 2
Cast on 2, knit 4, WT
Knit 4
Cast off all remaining (6) stitches. Cut yarn leaving a long enough tail to work with (aoubt 18cm). Thread yarn end through last stitch and pull to tighten.
Your leaf will now look like a little pointed half-circle.
Thread a tapestry needle with your yarn tail and pick up a few stitches along the bottom of your leaf (about 5 stitches between the two yarn tails).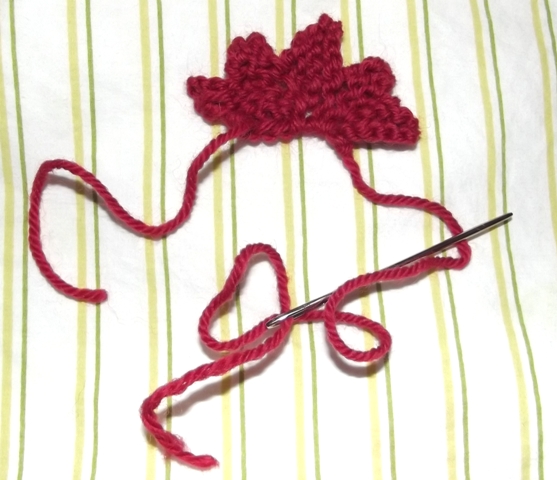 Pull tight and sew ends into back of leaf and trim away excess yarn.
Stem
Using the brown yarn, embroider the leaf veins using backstitch. Secure yarn ends into back of work and trim away excess.
To make stem, make a crochet chain of 5 stitches using a 4mm crochet hook. (If you've never tried crochet before but are prepared to have a go, there is an excellent tutorial here for how to make a crochet chain).
Thread end of yarn through the loop on the crochet hook and pull tight to secure. Now take this yarn end and thread it through the needle. Weave yarn end neatly through the crochet chain through to the other end –  you now have two yarn ends at the same end of the stem.
Attach stem to base of  leaf using yarn ends. Weave in ends on back of leaf to secure and trim away excess.
Your leaf is now ready to place on a clip.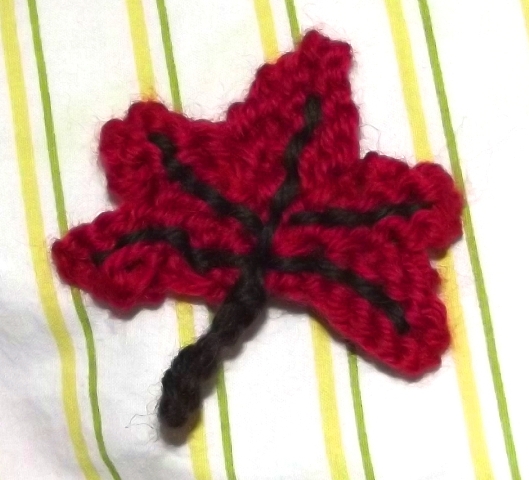 Because I use bobby-pins, I found it easy to just stab the pin through a few stitches on the back of the leaf (making sure you can't see the pin from the front). If you wanted to use a spring clip or other type of hair clip, you could sew the leaf to the clip.