Last week I finished up one of the most enjoyable projects I've knit for a while – the Planina Wrap.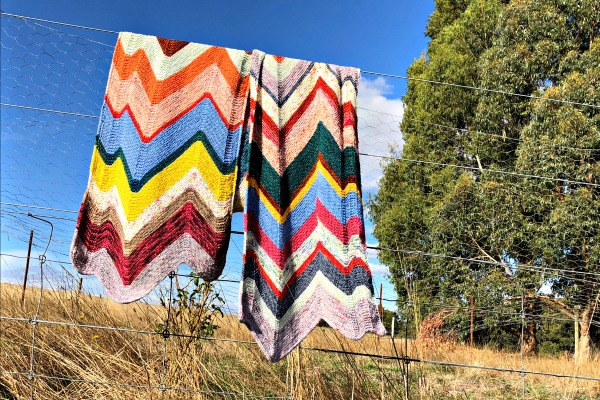 Planina Wrap is a pattern by Shara Lambeth and it's available on Ravelry for $4.00. Shara designed this to work with a yarn advent calendar, but it's a perfect stashbuster too. I used up lots of little bits leftover from knitting socks. Apart from two yarns that I included to keep the colours balanced, all of the yarn is my own hand-dyed sock yarn.
I used some new (but not difficult) techniques knitting this – an i-cord cast on and cast off. The i-cord cast on continues up both sides of the wrap as you work a simple i-cord edging. Then a unique knitted cast off forms an i-cord along the top too so the whole thing is bordered nicely.
The pattern calls for 3.5mm needles, but I used 4mm instead. I did this because I had some 4mm needles with me at the time and I was too lazy to get up and find smaller ones!
Because of the needle size change, my Planina Wrap is 40cm wide instead of 30cm, but I think I prefer it in this size. It's not as scarf-like as a narrower version would be, and the looser tension gives it extra drape.
There is nothing I'd change about this pattern – it's well written, clear and a lot of fun. I turned out a 3 metre wrap in about two weeks because I just couldn't put it down. It also challenged my need to have everything planned and co-ordinated.
Using scrap yarn limited me to colours I wouldn't normally combine, but the result is unexpectedly wonderful.