A great source of free patterns, great articles and general knitting goodness is Knitty.
Updated seasonally, Knitty is not quite an online magazine (it isn't set out in pages or a particular order), but more than just a collection of patterns. Each season offers a wide range of free patterns including jumpers and cardigans, accessories and – sometimes – toys.
Kiwi is from Knitty's "Deep Fall 2011″ (late Autumn for non-Americans). I promised to make Kiwi for a friend from New Zealand and here he is. His eyes are not as big as they are in the original pattern, but I think he's very cute (despite the poor picture – so hard to get good photos in winter).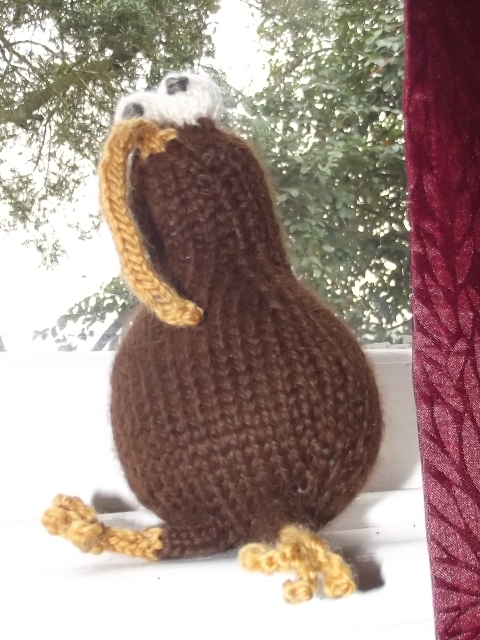 This is the first pattern from Cheezombie that I've ever made, and it was so much fun that I'll definitely make another. Cheezombie's toys are almost entirely seamless and can be knitted up in a few hours.
I think I'll knit a flounder or chicken next, although first I would like to make a scarf for Mister Kiwi – he is so cute I want to make a whole wardrobe for him before I give him to the intended recipient. I can't sent him away without any clothes can I?